On September 5, 2019, a Canadian won millions on the Mega Moolah. In fact, he did it at the Yukon Gold casino. The lucky player hit a C$4,746,748 jackpot. It just goes to show that you can win very big even on an online casino! This popular game is the most lucrative progressive slot available in Canada.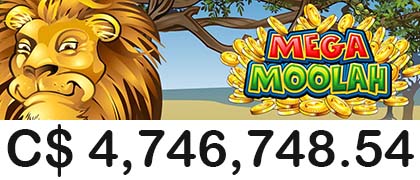 Even though this isn't one of the biggest jackpots ever won online, it's still big news. Since the progressive Mega jackpot starts at 1 million, winnings rarely exceed four million. To build up, the Mega jackpot must remain untouched for several weeks in a row. That's when the Mega jackpot can reach its peak.
Canadians are among the biggest winners
The most amazing thing about the Mega Moolah is that… most of the big winners are from Canada. Although there are several winners in Europe and England, Canadians dominate the top of the list. This year alone, many Canadian players won the Mega Moolah Super Prize. The official results since January 1, 2019 speak for themselves. Out of this year's top ten Mega Moolah wins, five of the winners are Canadian.
The Mega Moolah winner on September 5, 2019
The only three facts that we were able to get are the following: first, the player lives in Canada. Secondly, he played from a mobile phone. And thirdly, it all happened on the Yukon Gold Casino.


The Yukon Gold website is one of the most popular among slot fans. In addition, all the games are secure and compatible on mobile devices and PCs. Good news for new casino customers – you can get 125 x 25-cent spins on the Mega Moolah for only a C$10 deposit.
The winner's testimony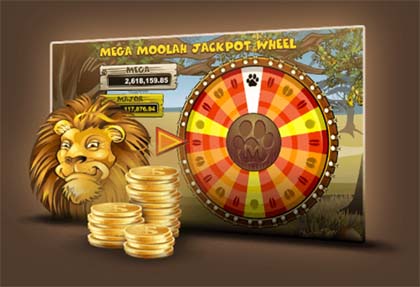 It goes without saying that if any more news gets out on this subject, you'll be the first to know on this page. It's pretty rare to get accurate data on large casino winnings. Naturally, hitting a big jackpot is not something a player wants to share with everyone.
Try your luck on the Mega Moolah
If you want to try your luck, why not take advantage of the best offers on the market? We have selected two unbeatable offers on our free Mega Moolah spins page. The first offer gives you 80 spins for C$1 (with Zodiac Casino). As for the second one, you can get C$1000 (with SpinCasino.com) on your first deposits. However, a recommendation in Zodiac Casino's favour is worth mentioning. In fact, there's plenty of great deals among our favourite free bonus offers. Learn more by taking a quick look at our welcome bonus page.
A C$1 offer to try to hit the Mega jackpot
With Zodiac Casino – you can try your luck with C$1. This astral-themed casino is a genuine millionaire factory. In August alone, a Canadian won over 5.9 million on the Mega Moolah. Clearly, Zodiac Casino as well as Yukon Gold, are two websites that Mega Moolah fans need to know. In addition, these legendary sites are listed among Canada's best online casinos. Overall, the biggest wins take place on the casino sites that we list. Indeed, Canadian players visit these online casinos the most. And, the opinions and comments published on our News and reviews about these casinos are rather favourable.