Today, we wanted to learn more about the largest jackpots hit in English casinos. We conducted a thorough research, asked the online casinos presented here how much their English biggest win was, audited news websites and looked into newspapers specialising in online gambling. We finally discovered some of the most unbelievable jackpots in the history of English casinos (with supporting evidence: picture, location and date).

Among some of the biggest wins in England, we decided to highlight two interesting cases.

# 1 (£13,213,838.68)

On October 6th, 2015 a 26-year-old English solider, Jonathan Heywood from Cheshire, won a progressive jackpot of £13,213,838.68 on Betway's website.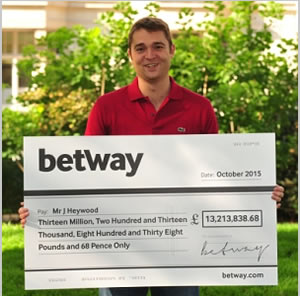 # 2 (£18,265.49)
On March 17th, 2014 a client of London Aspers Casino (in Westfield Stratford City) won £18,265.49 on a Fort Knox Jackpot. She managed to find the super jackpot winning combination by betting only 40p!

With over 150 slot machines, live classic games and the largest poker room in the country, Aspers Casino attracts hundreds of new players every day, so it's no surprise record prizes are won each weekend considering the number of people having a go at the jackpots!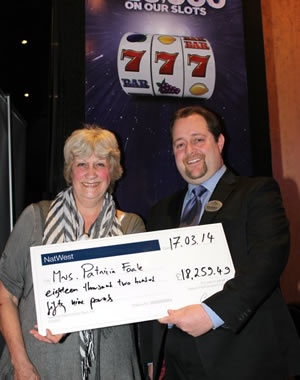 Fort Knox Jackpot
is a progressive jackpot game that always holds large amounts of prize money because each time a player bets, part of this sum is used to feed the Super Jackpot. This is one of the most popular games at Aspers Casino as £20,000 can be won with just 20p!
To learn more about Aspers Casino in Westfield Stratford City, don't hesitate to pay them a visit in person!
It's absolutely worth it; a simple peak at their game room will make you feel in Vegas!
Address:
Westfield Stratford City, The Loft, Olympic Park
312 Montfichet Road, London E20 1ET
Other historic wins
From October 2015 to this day, many jackpots of several million have been hit, whether in land-based casinos or online, like this player who won £4.2 million on December 18th, 2017 on Grand Mondial's website (an online casino known for its progressive jackpot slot machines). Jackpots of this size aren't easily won; luck plays a big role in the player's ability to hit such a super jackpot.
In land-based as well as online casinos, the most popular slots attract players looking for large jackpot prizes. Totally understandable, after all winning a fortune on slot machines is just like winning the lottery: it can change your life!
In England, the largest wins always happen in major casinos, whether online or in the real world. Indeed, to afford 7 or 8-digit jackpots on the slots, a casino must enjoy a certain level of fame, a large number of players betting, and a pay-out rate allowing for winning combinations to happen on a fair and regular basis, with a high ratio.
Last Updated: